The Solar Energy Industries Association (SEIA) and Greentech Media (GTM) Research predicted that the solar power industry would grow by 119 percent in 2016. Based on their studies, they expected the U.S. to install 16 gigawatts (GW) of solar. If their predictions proved true, the already incredible 7.3 GW installation of 2015 would be doubled.
Turns out the upward trajectory of the solar power industry is even steeper than SEIA or GTM Research could have anticipated.
On December 13, 2016, SEIA reported that in quarter three of this year the U.S. installed 4,143 megawatts (MW) of solar PV, achieving 35.8 GW altogether. The amount of solar installed this year could power 6.5 million homes in the U.S. These findings include upwards of one million non-commercial solar installations across the country.
The SEIA explains that the Solar Investment Tax Credit (ITC) was set to expire by the end of 2016. Fortunately, it will be renewed. This tax credit allows individuals and businesses to receive a 30 percent tax credit on all solar products.
Both commercial and non-commerical solar markets anticipate yearly growth. Due to the overwhelming utility solar demand in 2016, however, SEIA's report advises the public to be on the lookout for the U.S. solar installations to drop some each year beginning in 2017. The first drop in  the solar market is likely to only fall to 10 GW.
Despite this, the industry is still on the up and up. The extension of ITC will certainly help with the continual growth of solar installations from 2018 to 2020.
By GTM Research's calculations, the U.S. solar market is on track to exceed 100 cumulative GW in 2021, thanks to a projected yearly install rate of at least 20 GW.
At this rate, the solar power industry is on point to double each year. In fact, there are multiple ways the solar industry is growing. As the industry's success continues to skyrocket, companies are jumping on the solar bandwagon.
Companies Capitalizing on Solar Power Industry Success
Google's Project Sunroof:

Last August, Google launched

Project Sunroof,

a project that uses Google Maps to analyze the locations of homes or business and determine whether or not solar panels would be beneficial.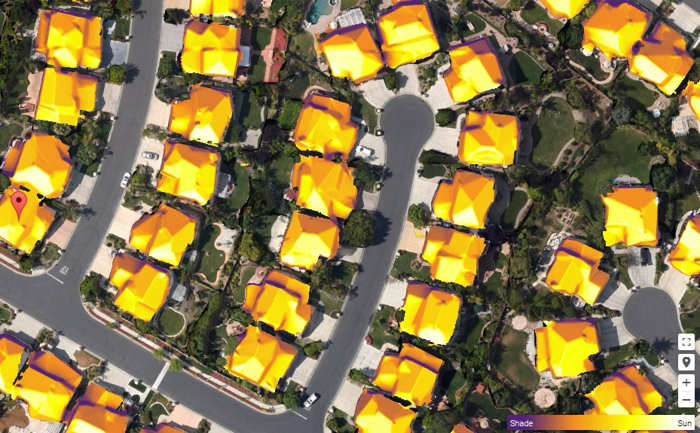 This project also helps estimate how much solar power a user's home can generate and how much users can expect to pay. While using this tool,users are presented with the option of filling out a form to get a free consultation from a residential solar power company.
At first, this service was only available to people located in San Francisco, Fresno and Boston. However, in January 2016, Project Sunroof grew to include 20 heavily-populated U.S. markets in states that were deemed the most solar-focused in the country, including California, Massachusetts, Arizona, New York, New Jersey, Nevada, Connecticut, Colorado and North Carolina.
In April 2016, the project expanded to include 42 states  with the ability to examine approximately 43 million rooftops. Google reports that the project's website is being visited by thousands of customers monthly.
Solar Stickers:

Ubiquitous Energy

is a company developed by researchers from MIT. This innovative company can commercially produce solar cells in the form of a sticker. These stickers adhere to

nearly anything

, transforming plain surfaces into solar windows. The beauty of this product is that it does not affect the functionality of the surface.
While the obvious place for said stickers would be on windows, mobile phones make another perfect spot. Since consumers already look at their phones constantly, the screens are often exposed to light. Solar stickers placed on smartphones would charge the battery without demanding extra effort from their users.  This technology is currently in development. While a release date has not yet been confirmed, it will certainly create a splash in the tech and green industries.
Clearly Electric:

On December 9, 2016,

SolarWindow announced

that they are now spreading their electricity-generating coatings to flexible glass. Called Clearly Electric, this new glass product is no thicker than a business card (0.1 mm thick) and bends easily without breaking.
SolarWindow predicts that this new product is so revolutionary, it will be worth $25 billion. After all, this is the first time the world has seen glass that is flexible, transparent and electricity-generating.
Because of the high levels of flexibility, the solar glass can be used in homes, businesses or even cars. Thankfully, it is also "scratch-resistant," making upkeep painless. SolarWindow coatings have been applied to 50-story buildings and have earned the building owners a year's worth of pay by producing 50 times more energy than a conventional rooftop solar panel would.  

As the solar industry continues to make significant improvements, the green building industry is reaping the benefits. More and more companies are creating new and exciting products or taking the initiative to effectively harness the sun's energy. As a higher number of these products are developed, the solar industry will become increasingly more attractive — and people will begin to reap the money-saving benefits of solar installation.
CONTRIBUTING EXPERTS
David Clemen
---
Kristen Sharp
Kristen is a writer for Poplar Network